About Us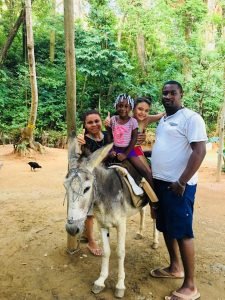 Hi! My name is Shervin Hamilton General Manager and founder of Roatan Anderson Tours! I was born and raised on Roatan Island. A native of this beautiful island, I will be the one making sure you have a memorable tour on your vacation. Sharing her beauty and uniqueness with visitors is the goal of Roatan Anderson Tours. As a native of the island, I know all the special nooks and crannies that many people are not aware of while visiting the island. Come discover the island on your private tour and experience why Roatan Island has become such a favorite vacationer destination to many!
If you are coming to Roatan and want a customize tour with just you and your group that is safe comfortable and above all personal, this the tour company for you. We pay attention to details. Roatan Anderson Tours is own and operated by a local family on the island who by experience know the history, tradition, culture and ecosystem of this beautiful Caribbean Island as well as those little unique places that enhances your Roatan Island experience. Our commitment to customer service and satisfaction are important and distinguishing characteristics of our tour company. We guarantee that no one has the same selection of tours and affordable prices as we offer to our guest.
We know that you have many options to choose from when looking for a tour company on the Island of Roatan, but when choosing the best tour for you and your family, there are several issues to consider such as affordability, honesty and reliability; characteristic that we believe makes us stand out from the crowd. It`s not always easy to find a company that is trustworthy, but one that meet all your needs and expectation. Roatan Anderson Tours provide all the above along with adventurous and fun-filled tours.
All our drivers and guides are bi-lingual, committed, honest, educated, and professional. Our vehicles are clean and air-conditioned. We have taxis, vans, and busses for your comfort and special needs to enjoy your day on my island. We offer complete service tours planning for individuals, couples, and groups of all sizes. Our tour experience and knowledge of the island and out of the way places will make this the most enjoyable and memorable destination of your Caribbean cruise vacation.
 Each of Roatan Anderson Tours affiliated drivers and guides, has been vetted and have demonstrated that they offer superior service and live up to Roatan Anderson Tours brand and stander. You can rest assured that your driver and guide will be with you at all times to offer your assistance, guidance, answer to your questions, or to translate languages or currency conversions. On one, our tours I guarantee you will see the island very different from on one the cruise ship excursion.
We are really looking forward to meeting you! We work hard to make our guest happy. We appreciates the trust that our customers demonstrates when they book a tour with us so book your excursion now with Roatan Anderson Tours and you will have one the BEST TOURS! On Roatan Island! Contact us today, make your reservation for a fun time, and enjoy your adventure!